Schools across the country are focusing on safety more than ever before. From implementing security guards to running active shooter drills, it's become increasingly important that educators and administrators do their best to keep students and faculty safe. One cost-effective solution worth considering is 3M Security Film. This film adds an extra layer of protection to glass doors and windows to increase school safety. Read on to learn why using 3M Security Film should be part of your school's overall safety plan.
What is 3M Security Window Film?
3M Security Window Film is a durable and transparent layer of polyester applied to windows and glass doors. This film keeps the glass together when broken, preventing it from shattering in case of a break-in or natural disaster. In addition, the film can resist impact, weather, and force. This can help delay the intrusion of a hostile individual and provide those inside extra time to react in an emergency. Professional Window Tinting carries various security film products that offer different functionalities so schools can find the perfect film to meet their needs. Browse our 3M Security Film products. 
How does 3M Security Window Film Work?
3M Security Films are designed to stretch rather than tear. This keeps the broken glass in place, reducing the chance of any injury and preventing anyone from quickly gaining access to a space. Even if someone manages to break the window, the film's strength reduces the risk of shattered shards, minimizing damage and harm while providing valuable time to respond. It is a proactive solution for situations where every second counts. 3M Security Films offer added protection against:
Break-ins & Burglaries
Natural disasters & inclement weather
Bomb blasts
Benefits of 3M Security Window Film
3M Security Window Film offers various benefits. First, it is an affordable, long-term solution that requires minimal maintenance. Secondly, the film provides an additional layer of security to traditional door locks and other measures. This film reinforces the existing glass and enhances the structure so that the intruder or attacker would find breaking the window much more difficult. Lastly, 3M Security Window Film is virtually invisible to the eye depending on the product selected, preserving the building's aesthetic.
Additional Products for School Safety
In addition to 3M Security Films, Professional Window Tinting carries products that can be used with window film to further increase school safety. These products can even all be used at once to achieve top-of-the-line security.
Water and soap are typically used when applying window film. However, this doesn't offer any added strength. That's where C-Bond comes in! C-Bond is an alternative to traditional soap and water in the window film installation process, bonding to the glass and strengthening it. This alternative provides a layer of security that is essential in today's world and can be utilized in addition to 3M Security Film.
Impact Protection Adhesive (IPA) attachment systems can be used with window film to further increase school security. 3M Security Window Films hold the glass in place, but attachment systems anchor the glass into the frame to take security up a notch. At Professional Window Tinting, we highly recommend the use of this combination to achieve ultimate security. Without an attachment system, the broken glass can potentially fall from the frame. However, with the film holding the glass in place and the attachment system anchoring it to the frame, you can rest assured you're doing everything you can to keep your property and its occupants safe and secure.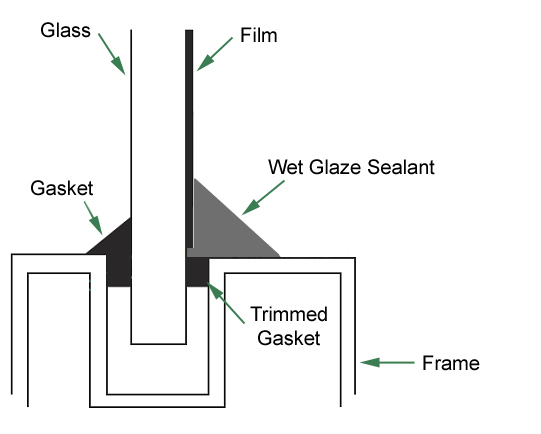 School safety should be a top priority, and every effort must be taken to achieve it. Undoubtedly, 3M Security Window Film is an affordable and practical solution for enhancing school security. The importance of having an experienced and professional installation team cannot be overstated. Working with qualified experts provides customized solutions and ensures the film is installed to the highest standards, providing long-lasting protection. Remember, an extra layer of security can make all the difference in school safety! Contact Professional Window Tinting today to learn more.
Professional Window Tinting is a family-run and woman-owned business, proudly serving the MD, DE, PA, and NJ region for over 30 years. To get your free quote on commercial,residential, or automotive solar window film, give us a call at (302) 456-3456 or fill out a form online.