Maybe you're looking to save on energy for financial reasons or to reduce your carbon footprint and stay comfortable inside. No matter the reason, know that you don't have to install clunky blinds and drapes to get achieve the energy savings you need. But before we get to the solution, let's start with the issue.
Why your cooling and heating systems are working overtime
You can own the best A/C or heating system on the market, but it cannot prevent manmade air from escaping outside. The air slips through the cracks of your structure – think cracks under your doors or edges of windows – but the main exit point is actually your windows themselves.
If you've ever stood next to a window in the winter, you've felt the cold air seeping through the panes. Glass is a transitional material which allows air to enter and escape your home or office. This means that your manmade air doesn't stand a chance of staying inside your home for very long. The solution is to introduce a barrier.
Why blinds and drapes won't cut it
Many people resort to thick blinds or drapes as a solution, but it only provides a temporary solution…unless you like living in darkness. These "solutions" allow minimal to no natural lighting when in use. It also makes your home darker and increases the need for fluorescent lighting energy.
Then, if you want to enjoy the sunlight, that barrier is immediately lifted. This not only causes temperature fluctuations but also allows for harmful UV rays to wreak havoc on your furnishings. Luckily, there's a solution that provides plenty of natural sunlight, heat control, and energy savings.
The solution: 3M window film
3M window film is the best way to save on energy and maintain comfortable indoor temperatures year-round. Window film seals to the glass on your windows and provides a virtually clear barrier, blocking air from entering or escaping. Within the first month of installation, you'll feel the difference in your home and shave money off your electric bill.
All 3M window films are removable and are backed by a lifetime (residential) or comprehensive (commercial) warranty, which covers bubbling, peeling, or cracking.
Save on energy with solar and temperature control films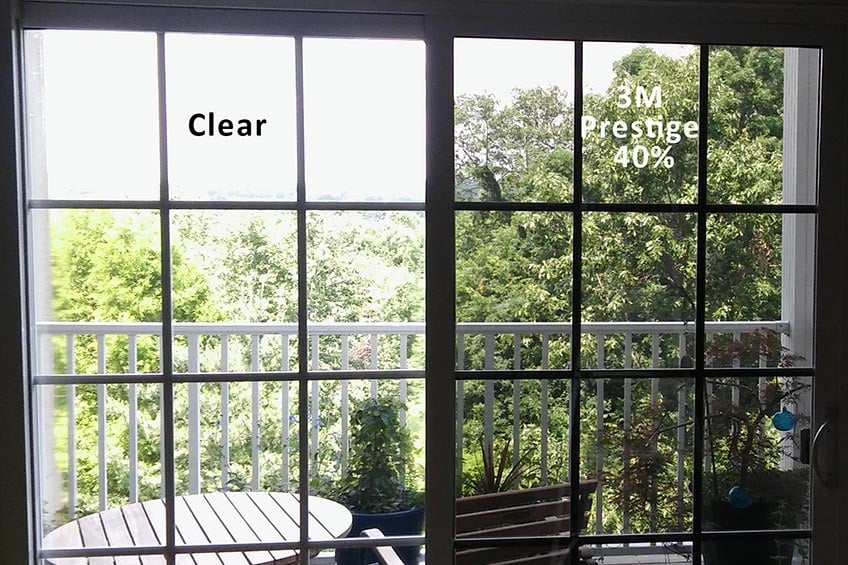 Most customers' first question is, "Will window film darken my windows?" 3M Prestige window film is virtually clear and comes in a variety of tints, none of which will dramatically alter the look of your windows. The only things you'll notice are more comfortable indoor temperatures, less glare, and energy savings on your electric bills. 3M Prestige solar window films:
Reject up to 60% of the heat coming through your windows
Reject up to 99.9% of UV rays to reduce fading and damage to your furnishings
Allow you to become carbon negative within 6 months of installation
Helps extend the life of your cooling and heating systems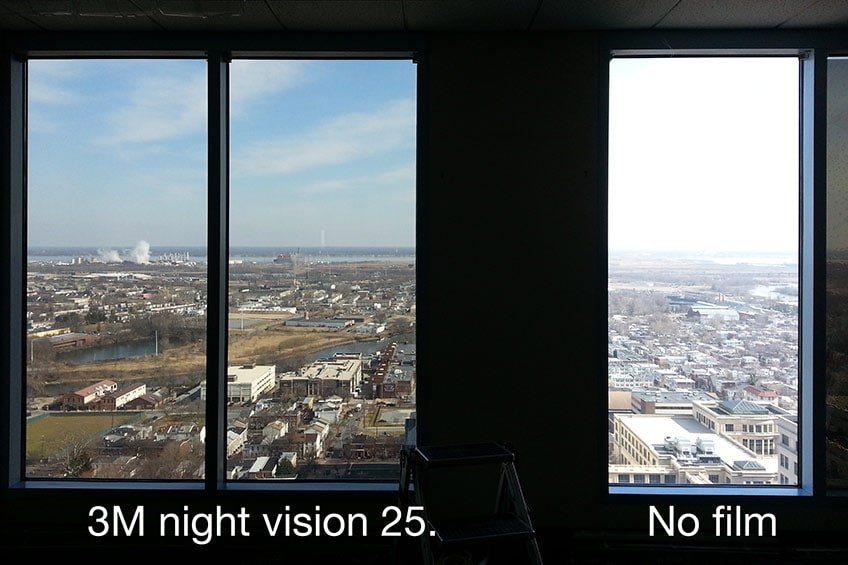 3M Night Vision is similar to Prestige in that it significantly blocks heat and harmful UV rays. But it's better for customers who want enhanced views of the outdoors. Night Vision films allow 15% to 35% of the natural light by day, and thanks to a low interior reflectivity, you can still enjoy the view out by night. These Sun Control films:
Offer brilliant views of the outdoors with low interior reflectivity (especially at night)
Reject up to 71% of the sun's heat to help reduce glare and add years to your heating and cooling systems
Significantly blocks the amount of harmful UV rays entering into your space
Allow 15% to 35% of the natural sunlight to enter into your home or office
We've found our customers are very creative in finding ways to insulate their homes. Methods range from bubble and saran wrapping windows to DIY curtain making. The great thing about 3M Thinsulate window film is that you can insulate your home year round without lifting a finger. Plus, it's virtually clear and saves you the embarrassment of having bubble wrapped windows! 3M Temperature Control films:
Help keep you warm during the winter months and cool even in the harsh summer heat
Provides virtually clear insulation for your home or office
Increases energy savings year round and helps your A/C and heating systems last longer
Significantly blocks harmful UV rays from damaging furnishing and heating up your space
Save on energy, reduce heat and glare, insulate your windows, and protect your furnishings with 3M solar window films. Enjoy plenty of natural light without having to run over to the thermostat multiple times per day. Give your home (and yourself) a break with 3M window film!
Professional Window Tinting is a family run and woman-owned business, proudly serving the MD, DE, PA, and NJ region for over 30 years. To get your free quote on commercial or residential solar window film, give us a call at (302) 456-3456 or fill out a form online.